PROGRESSIVE CORE STRENGTHENING
---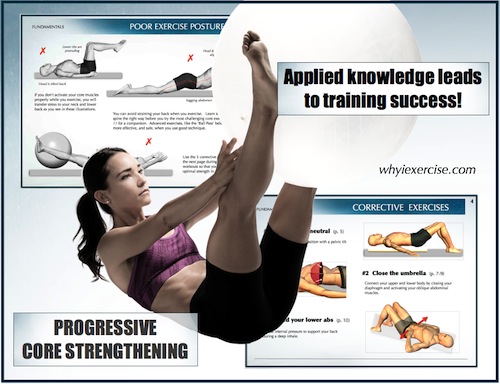 Train with my eBook Progressive Core Strengthening (PCS), and you'll learn a whole new way to exercise.
Have you ever watched an exercise video or a friend working out in the gym and wondered how they can control their movement so well?  It's not just that they're strong & fit.  Somehow, they keep perfect body alignment while they exercise, even with difficult movements. They make it look so easy!   How would you feel if you could learn to move with that kind of grace and control? 

---
See this book on the iPad and on a Samsung Galaxy S phone in the video below. 

                                    Click here to check compatibility with your computer, tablet or phone. 
The idea of having real control over your body movement sounds great doesn't it?  Who wouldn't want that kind of natural support for their back?  But how do you train your muscles to get to that point?  If your muscles aren't responding the right way when you exercise, how do you get control, so you can workout with correct form?   
I've spent more than a decade of my physical therapy career researching so that I could answer those questions for my patients.  Chronic pain was slowing their lives down, and I wanted them to have the desire and the confidence to move freely again.  I studied training techniques by clinicians, athletic coaches and performing artists.   Once I'd seen enough people have breakthroughs with the core strengthening method I developed, I knew I needed to share what I'd learned with a larger audience.
Progressive Core Strengthening will challenge and reprogram your entire core, and it's easy to follow along         You'll learn to control your body alignment as you work your way through 6 levels of training, intro to advanced.  The training follows a natural progression.  New exercise movements build off what you learned from the previous workout.  As you go along, you'll be applying fundamental movement skills you learn from the start of your training.  This way you can maintain good form even when an exercise is difficult for you.
Until now, the only way you could learn movement skills like what I'm teaching in this program was through one-on-one sessions with a physical therapist, expert personal trainer or Pilates trainer.  That's expensive!   But today you can have all the info you need in a thoroughly illustrated, easy to understand, searchable eBook that works like a phone app!  You'll pay much less and you'll be able to learn at your own pace. 
Stories of Success with PCS
At this point you may be wondering how someone could reprogram their muscles just by studying a core exercise book.  I would point you back to my teaching method.  I took the complex movement of the core muscles and broke it down into easy to understand training exercises.  It all starts with simple breathing techniques!  
Progressive Core Strengthening has been very helpful for a number of people. Here are some of my favorites.  PCS has helped an elderly woman build strength and overcome her hip pain.  PCS helped an Ironman triathlete train more efficiently & handle his long bike and swimming sessions more easily.  PCS also helped a restaurant owner completely eliminate his back pain.    
---
"Moving is great, but proper movement patterns are the key to success. Good movement prevents injury as you work to become more fit...Develop your strength, enhance your performance, transform your posture and protect your muscles and joints with Rob's amazing interactive book."
Tony Horton, Creator of P90X 
---
Download Progressive Core Strengthening for only $20.00

Download tip:  After you order the book, I recommend downloading to your computer first and then transferring the book to any device you'd like to use it on.  Your purchase is 100% secure and guaranteed.  If you are not satisfied for any reason, contact me within 30 days of your purchase for a full refund.
For more training options, see my eBook store.
---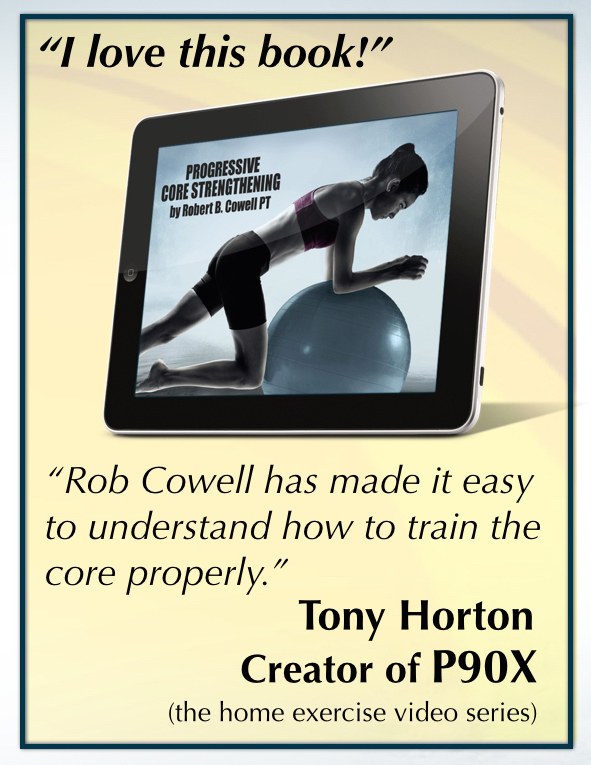 See a user's guide to PCS in the video above.

Unique advantages for readers of PCS   
---
1.  Gain access to a wealth of training information.

PCS teaches you core strengthening on the mat, foam roll, stability ball and BOSU.  The exercises are presented from multiple angles, showing correct and incorrect exercise positions.  Modifications show you ways to increase the challenge or make the exercise easier, and anatomy charts display the muscles being trained.   All of these design features help you visualize and achieve correct form when you exercise.    
PCS takes you through 6 levels of training.  The workouts are balanced, training the deep abdominals, shoulder and hip stabilizing muscles, and the back.  If you are a personal trainer, pilates trainer, physical therapist or chiropractor, PCS gives you a diverse arsenal of exercises, clearly explained, to use with your clients or patients.  
---
2.  Navigate your eBook like a phone app or website.
All 56 exercises in Progressive Core Strengthening are organized by muscles trained and by level of difficulty, and you can access any exercise instantly.  How does it work?  PCS has links between reference pages and exercise instructions.  Just tap or click on the back anatomy icon, for example, and you'll jump straight to a directory of back exercises.  Pick an exercise from the list of back exercises and view the instructions in a snap.  Compare exercises and review instructions with ease.
---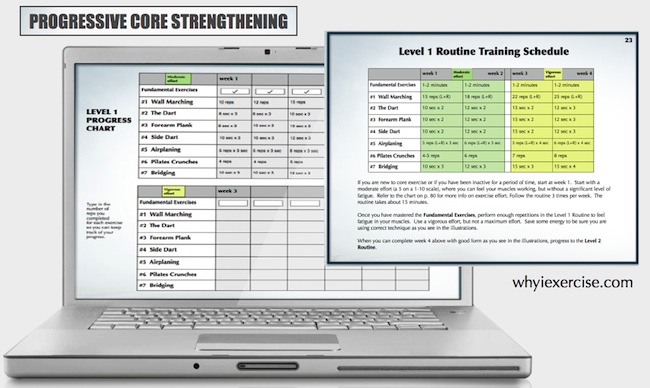 3.  Get training guidance and track your progress inside the book.
At the beginning of each chapter is a training progression that shows you how many reps to complete for each exercise.  Follow the 4 week schedule so you can graduate to the next core strengthening routine, and chart your progress by typing right into the book!   Health care and fitness professionals, PCS gives you an easy way to follow your client's progress between your private sessions.
---
4.  See the way your muscles are supposed to work and learn good form quickly.
Anatomy illustrations help you visualize and understand the way the core muscles are supposed to work.   This will accelerate your learning curve toward correct exercise technique.  Your learning will be reinforced by illustrations throughout the book comparing good and poor form.  
The video below shows clips from a talk I gave, out of the first chapter of PCS, on breathing for strength development and injury prevention.  
Thanks to FRED Talks in Santa Monica, CA for the opportunity to speak at your health and fitness event.
---
5.  Use PCS on your laptop and mobile devices.

PCS was designed in .pdf format, which makes it compatible with PC and Mac, iPad, Kindle Fire, Android tablets and smartphones, iPhones and more.  If your device has Adobe Reader, PCS will work on it, complete with all of the features.  
(PCS is also compatible with iBooks, for Mac / iPad / iPhone users.)
*Download tip:  After you order the book, I recommend downloading to your computer first and then transferring the book to any device you'd like to use it on. 
---
Download PCS for only $20.00           
PCS was developed out of 17 years of unique experience in rehabilitation, fitness and training for athletic performance.  It is my effort to give you direct access to the best of what I've learned and put into use over the years.  
Don't merely purchase this book.  Please take advantage of the time I put in to practicing, teaching and organizing these exercises and routines.   I even designed all of the illustrations myself to be sure that you would have the best possible learning experience.  Best wishes for success with your training!
For other titles, see my eBook store.
---
"It's an excellent ebook! It's doing wonders for my mum who's been recovering from a hip injury and lost a lot of strength, She's been following this book for 5 weeks and she's doing great."   -T Blackman

"I have Rob Cowell's book--extraordinarily well done … graphics and guidance that uniquely combine to serve as a valuable resource … am in the field of design - helps me admire all the more the quality of the e-book…"  -B.  St. Clair
---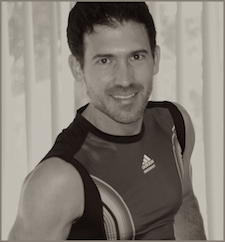 About the author
Rob Cowell, PT is a core exercise training specialist.  His training method was developed from 17+ years of experience as a physical therapist.   Rob has worked extensively in rehab and fitness environments.  His clientele has included orthopedic and sports medicine patients of all ages and ability levels.
Rob appears as a cast member in the exercise video series P90X3.  He was also cast in Tony Horton's upcoming series 22 Minute Hard Corps.  Rob enjoys developing his own athletic ability with calisthenics and body weight training.  
Return from Progressive Core Strengthening to lower back exercise.