eBook store
Master your movement and make yourself strong!
---
PROGRESSIVE CORE STRENGTHENING, 2nd Ed.   Progressive Core Strengthening has already helped others relieve pain, restore their strength, and improve their athletic performance, and now the new second edition is enhanced with updated content, photos and illustrations!   With this interactive eBook, you'll learn how to activate your core to give your muscles and joints the support they need throughout the day, including when you exercise.  Then you'll take your new movement skills and apply them to a six-level series of workout routines, building all the way up to athletic core strength if you so desire*.   
                                                        $20.00

---
Other books based on Progressive Core Strengthening, 2nd. Ed.
---
INTRO CORE TRAINING   Have you ever felt inspired and yet overwhelmed seeing a fit friend or peer exercising, as if you'd have to get in shape first before you could even try what they were doing?  This eBook will bring core exercise right to your level so you can build strength and feel more confident about the way you're exercising.  You'll follow a natural progression through three graduated workouts, building you up to an intermediate level of core strength by the end of the program*.

$6.00
---
ADVANCED CORE TRAINING      Have you ever pushed yourself to keep up with an intense workout routine and then wondered whether you could get hurt by the way you were doing the exercises?  Advanced Core Training is true to it's name, and it will push you to new levels of strength and control.  You'll work your way through three challenging workouts, building you up to an athletic level of core strength by the end of the program*. 
$6.00
---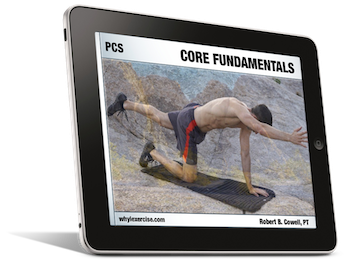 THE CORE FUNDAMENTALS     Imagine if there was one thing you could do that would make you feel better, look better and even breathe more easily! Today, you can get access to a very doable training method using posture, strengthening and mobility exercise, that teaches you exactly how to support your neck and back with your core.  Your new movement skills will help you develop good posture and better body alignment when you exercise.   

$7.50
---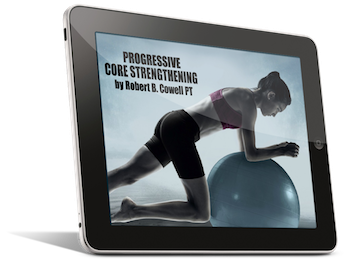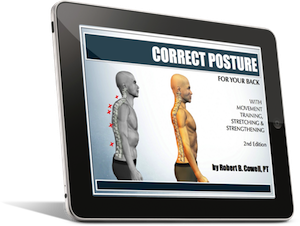 PROGRESSIVE CORE STRENGTHENING (Version 1) and CORRECT POSTURE BUNDLE
PCS teaches you core strengthening on the mat, foam roll, stability ball and BOSU.  The exercises are presented from multiple angles, showing correct and incorrect exercise positions.  The six workout levels in PCS are balanced, training the deep abdominals, shoulder and hip stabilizing muscles, and the back. Modifications help you adjust the exercise right to your ability level.  Anatomy charts clearly show the muscles being trained.  
Correct Posture shows you dozens of specific exercises to restore flexibility and strength to the muscles around the spine, making it much easier to sit, stand and bend with good alignment.  Practicing these exercises will help balance your muscles, making body movements feel easy and more natural.  If you want to relieve muscular fatigue, stress and tension in your back, build core strength safely, improve your first impressions, and prevent more serious back problems in the future, read this book.
$12.50

---

The eBooks above were designed in .pdf format, which makes them compatible with PC and Mac, iPad, Kindle Fire, Android tablets and smartphones, iPhones and more.  If your device has Adobe Reader, PCS will work on it, complete with all of the features.  (These eBooks are also compatible with iBooks, for Mac / iPad / iPhone users.)

Don't merely purchase these books.  Please take advantage of the time I put in to practicing, teaching and organizing these exercises and routines.   I even designed all of the illustrations myself to be sure that you would have the best possible learning experience.   Best wishes for success with your training!
Download tip:  After you order, I recommend downloading to your computer first and then transferring your book to any device you'd like to use it on.  Your purchase is 100% secure and guaranteed.  If you are not satisfied for any reason, contact me within 30 days of your purchase for a full refund.

---
Watch this video to preview a more in-depth training experience. 

*Complete online courses like this one are available here.
---