Pilates sample exercises
A short, intense routine with videos, illustrations.
These Pilates sample exercises will help you see what makes this type of exercise so popular. Pilates targets the core muscles while teaching students to control their breath and body movements. Follow the instructions and watch the videos below for a trial workout!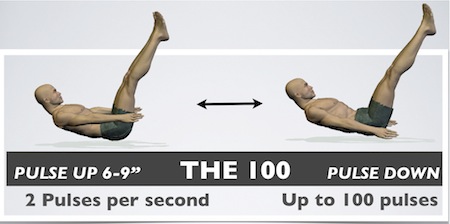 #1 The 100
This classic move is a great warm up for a challenging core workout. Start on your back with legs in the air and knees bent 90 degrees. Reach your arms for the ceiling, inhale, then exhale and reach forward past your thighs as you curl your upper body off the floor. Extend your legs, press your thighs together and point your toes. Hold this position
Keeping your arms straight and long, begin pulsing your arms toward the floor and back up 2 times per second, holding still in the crunch position.
**If you have difficulty keeping your legs straight the whole time, let your knees bend and finish the exercise. Keep working at it!
The easier version of this exercise is on the back strengthening exercises page.
---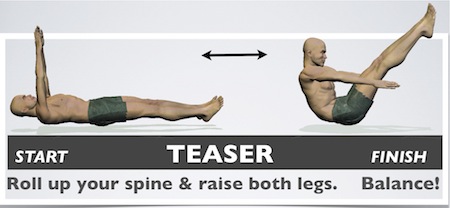 ---
#2 Teaser
This exercise includes a fun balance component as you hold your arms and legs in the air. Lie on your back. Reach both arms high for the ceiling. Keep your knees straight and toes pointed throughout the exercise.
Inhale, then exhale and roll your spine off the floor gradually (from the upper to lower back) as you raise your legs in the air. Reach your arms forward past your thighs as far as possible. Balance in this position, hold 3-5 seconds. Slowly roll back to the starting position.
Repeat 5-8 times
**For an easier version (called Roll Up), keep your legs on the floor throughout. Reach as far forward for your toes as you are able, then reverse directions. Roll back down the spine gradually until you're back at the start position. Roll up is the first move in the video.


---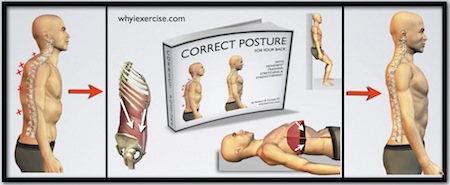 ---
Note: These Pilates sample exercises aren't for beginners! If this routine is too difficult, start with our back and core exercise routine. After you build up your strength over a few weeks, come back and try again!


---

#3 Swimming
Swimming is the only one of the Pilates sample exercises to train the back. But it works out well because you'll also get intense training for your trapezius, lumbar and gluteal muscles with this move.
With your arms overhead, reach your hands and feet away from each other until your arms and legs and head are all in the air. Hold this position 5 seconds. Keep your shoulders down, away from your ears, and hold your abdominals tight.
After a deep inhale, begin pulsing your arms and legs (left, right, left, right....) about 2 times per second. Keep your elbows and knees straight, and your arms and legs in the air throughout the exercise. After 20 pulses, hold still in the air for 5 seconds, then repeat 20 more pulses. Try to keep your body long and straight throughout the exercise.
50-65 pulses with each arm / leg (1,1...2,2...etc)


---
Product Recommendation: For further study in Pilates, the book and videos (in the right column) by Rael Isacowitz are high quality, easy to understand, and very reasonably priced.
---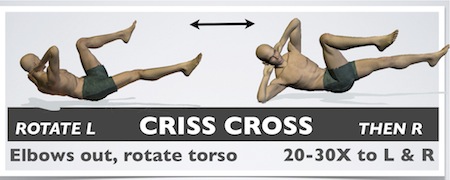 #4 Criss Cross
Criss Cross is one of the best oblique exercises, and perhaps the most challenging of these Pilates sample exercises. Give it a try and you'll find out!
Extend your L leg out as you pull your R knee toward your chest. At the same time, perform a crunch, and twist your body so your L elbow reaches for your R knee. Repeat on the opposite side.
Keep your chest open and your elbows pointing outward, so that the movement is in your torso rather than your arms. Keep your abs firm so that your lower back remains flat on the floor. See a challenging version in the video below.
Repeat 20-30 times to each side.


---
---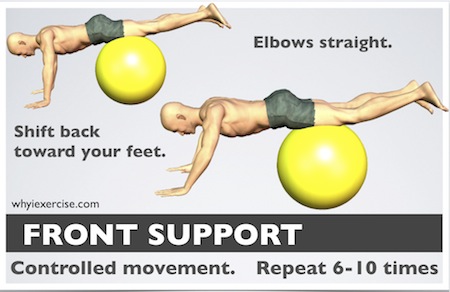 #5 Front Support
This move is adapted from a Pilates reformer exercise. From the starting push up or plank position, slowly shift your weight backward as far as you can while maintaining total control of your body position. Return to start and repeat up to 10 times. Don't shift very far back until you are comfortable with the exercise. Also, the video shows the exercise with a foam roller under the hands. This makes the exercise much more challenging. For more info, see the article on stability ball exercises.




Return from Pilates sample exercises to free home exercise programs

Return to Why I exercise.