Stability ball exercises
Develop balance and strength for the upper body and core

The stability ball exercises in this routine will challenge any ability level from beginner to advanced. Adjust your position (on the ball) to make the exercise easier or more challenging as needed. Beginners start with the ball at waist level, as shown. Maintain muscle tone throughout your body for good alignment during these exercises. Scroll down for tips on body alignment.
Note: The foam roller shown in the videos below is less stable than having your hands on the floor. This makes the exercises more difficult. Make sure you can easily hold your balance in the start position before trying the exercises with the foam roller under your hands.
---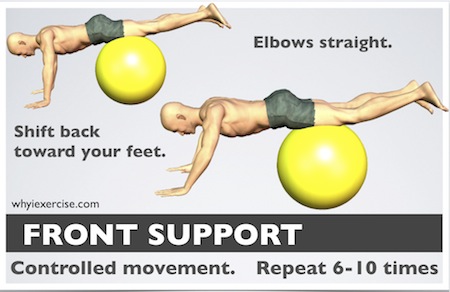 #1 Front support
This move is adapted from a Pilates reformer exercise. From the starting push up or plank position, slowly shift your weight backward while maintaining total control of your body position. Return to start and repeat up to 10 times. Limit your motion (don't shift very far back) until you are comfortable with the exercise.
Note: If you are a beginner, start with the first 2 stability ball exercises in a limited range of motion. Once you have improved your strength and body control, try #3. Wait until you are proficient with #3 to try exercises #4 and #5, as they are more advanced.


---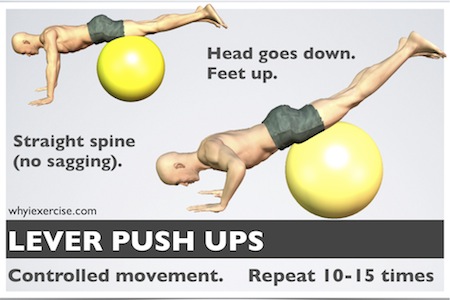 #2 Lever push ups
This exercise teaches you to involve your core muscles in push ups, so that your body does not sag and stress your spine. Keep your body in a straight line over the ball. Your feet go up as your head goes down, and vice versa. Emphasize good body position at first, then work on going through the full range of motion as shown. As with standard push ups, you can adjust your hand position to focus on different muscle groups (hands close together for triceps emphasis). Repeat up to 15 times.
---
#3 Double knee to chest
This is a more dynamic version of the plank exercise, requiring greater core strength, balance and control. Pull your knees under your hips, then extend your knees fully and repeat. Keep your upper body completely still, with elbows straight. Repeat up to 15 times.
---
Body alignment tips for the stability ball exercises
1) Straighten your knees and point your toes
2) Tighten your abdominals to keep your back from sagging.
3) Space your shoulder blades apart (no pinching).
4) Keep your elbows straight.
5) Point the top of your head forward (for good neck alignment)
6) Start with the ball under your waist or thighs.
7) A foam roller provides a natural, curved surface for your hands.


---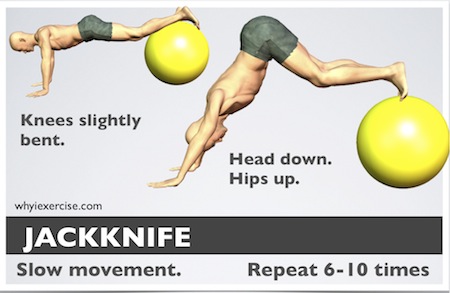 #4 Jackknife
Pull the ball underneath you so that your hips go up and your upper body goes down. This exercise emphasizes the lower abdominals, the deltoids, and the trapezius. Keep your knees slightly bent to avoid excessive hamstring stretch during this exercise. A more advanced version, shown in the video is to pull up to a semi-vertical position. Repeat up to 10 times.
---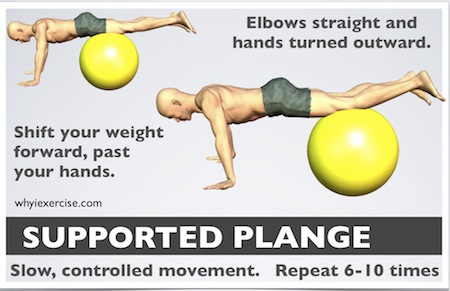 #5 Supported plange
The most challenging of the stability ball exercises is adapted from a gymnastics exercise, the plange. This move is excellent for developing the shoulder stabilizers and the pecs. It is essential to keep your shoulder blades spaced apart (no pinching) during this exercise. Start with the stability ball under your waist, and don't shift your body weight very far forward until you are comfortable with the exercise. For safety, have a spotter hold your feet. Also, If you do not use the foam roller, turn your hands outward 30 degrees to lessen the strain on your wrists. Repeat up to 10 times

Return from stability ball exercises to free home exercise programs.

Return to home page: Why I exercise.