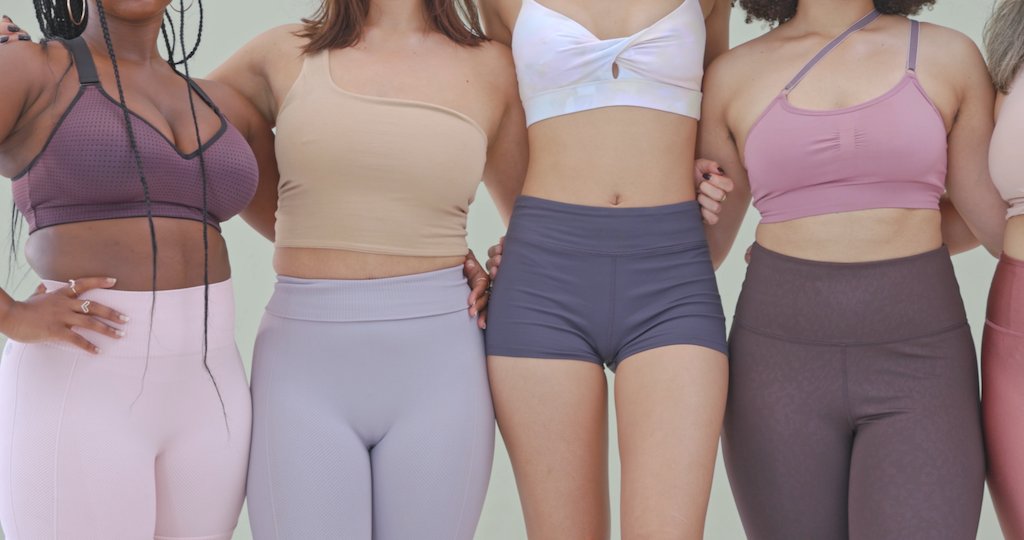 Waist-To-Hip Ratio
Find out whether you need to lose weight, based on reliable research. 
---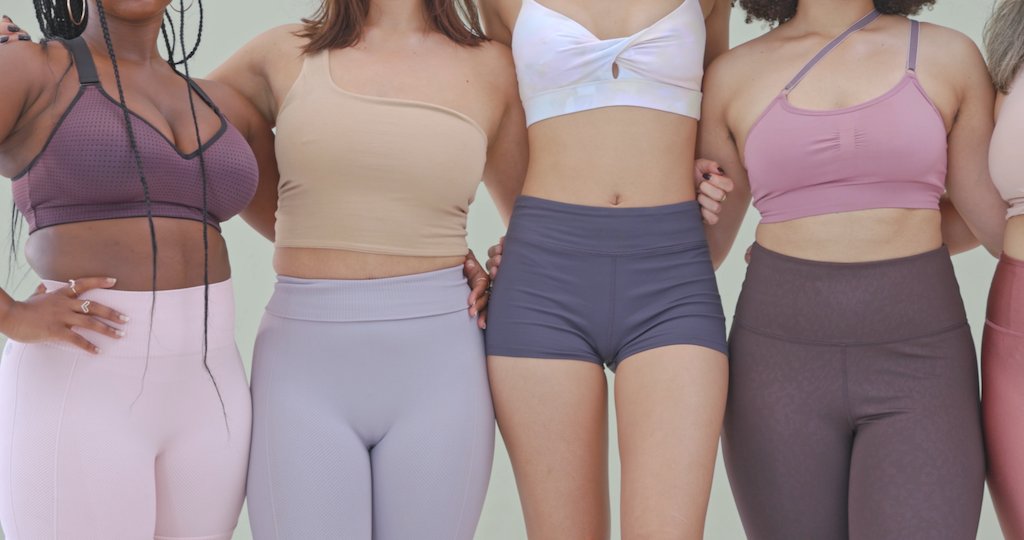 The waist-to-hip ratio is a standard for health and beauty across all body types. Regardless of size, the more well-defined a woman's waist, compared to her hips, the lower her risks of chronic conditions like heart disease and diabetes. (1-4)  A 2023 UK study found when compared to body mass index, an increase in waist-to-hip ratio was more strongly associated with death risk due to cardiovascular disease, cancer, or all causes combined. (5)

Continue reading to learn how to take accurate waist and hip measurements. Then you can interpret your scores (for men and women) according to the most reliable research on waist-to-hip ratio, waist-to-height ratio, and waist circumference. Combine this article with our body mass index article, and you have the tools you need to assess the influence of your weight and size on your health. It's a comprehensive research-supported guide to body weight and body fat distribution. 
Waist-To-Hip Ratio: Women's Standards and Chart
A distinct difference between the waist and hips has been a central feature in women's beauty standards across cultures for centuries. So how closely does having a beautiful or desirable form relate to your long-term health?  Calculate your waist-to-hip ratio by dividing your waist circumference by your hip circumference. A waist about 2/3 the size of your hips gives you the classic ideal beauty standard, like the well-known measurements of a 24-inch waist with 36-inch hips.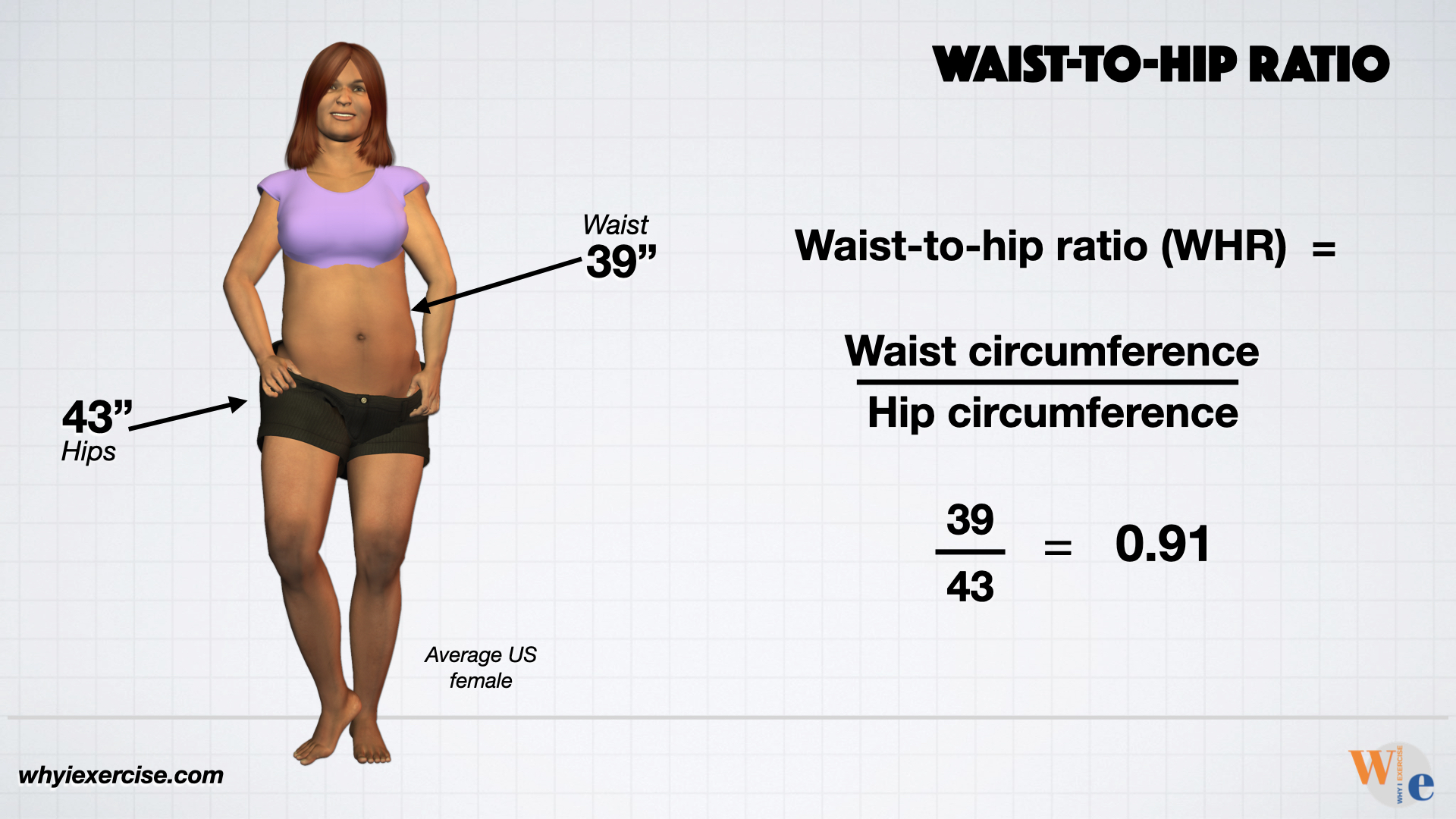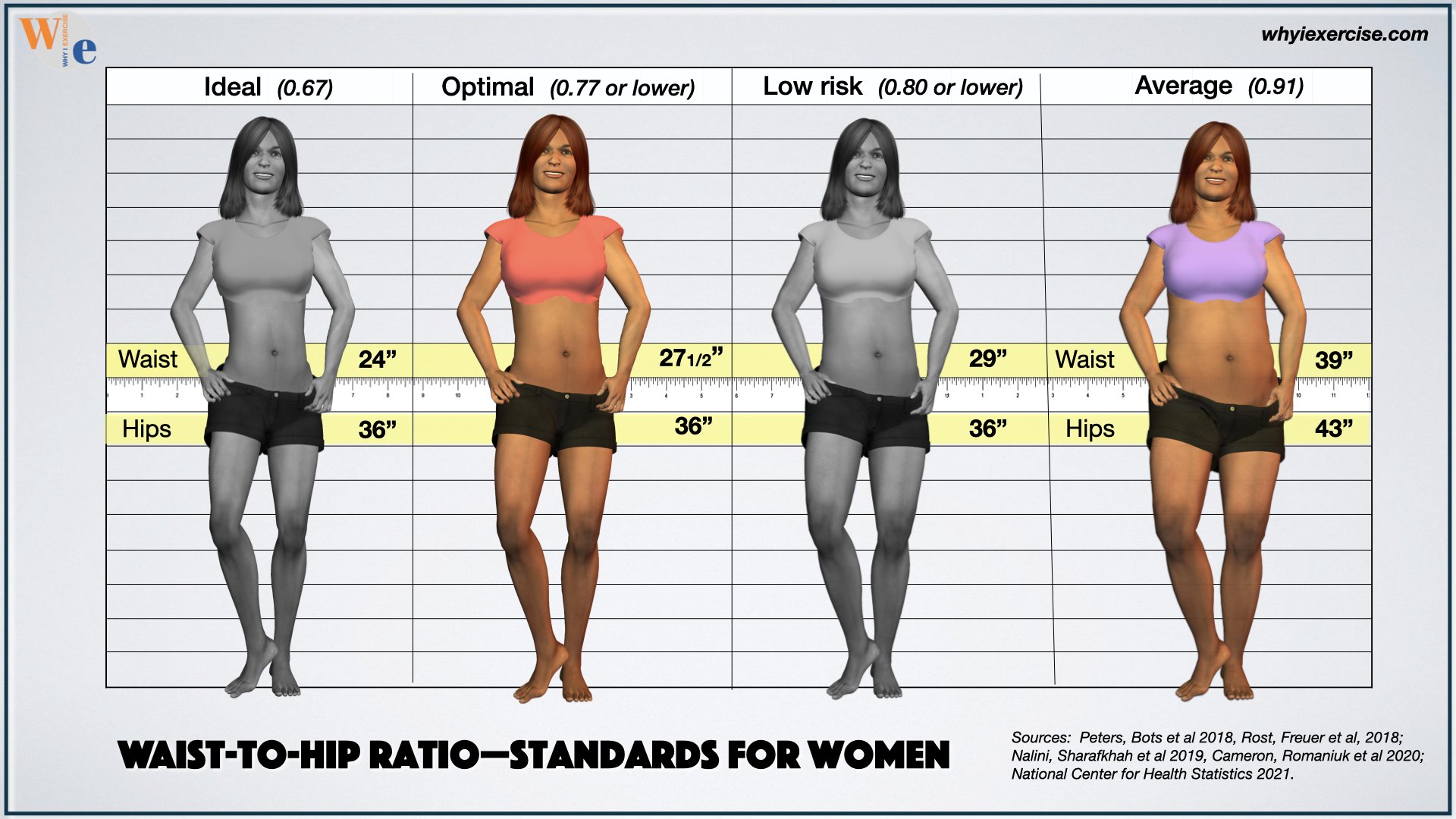 But you don't have to reach the ideal for optimal health benefits. According to a 2018 study, the lowest health risks are for those with a waist at about 3/4 of their hips or smaller, which would be a 27.5-inch waist or if you have 36-inch hips. A waist 4/5 of your hips is still low risk. This would be a 29-inch waist if you have 36-inch hips. The numbers change if you have wider hips. (1)
To see your health risk score, find your hip circumference in the left column and scan to the right to find your waist. The average woman, represented by the star on the chart, has nearly two times the risk of having a heart attack compared to a woman with optimal measurements, according to a 2018 study. (1)  Scientists believe the increased health risk observed in people with larger waists is due to a higher concentration of fat around the internal organs.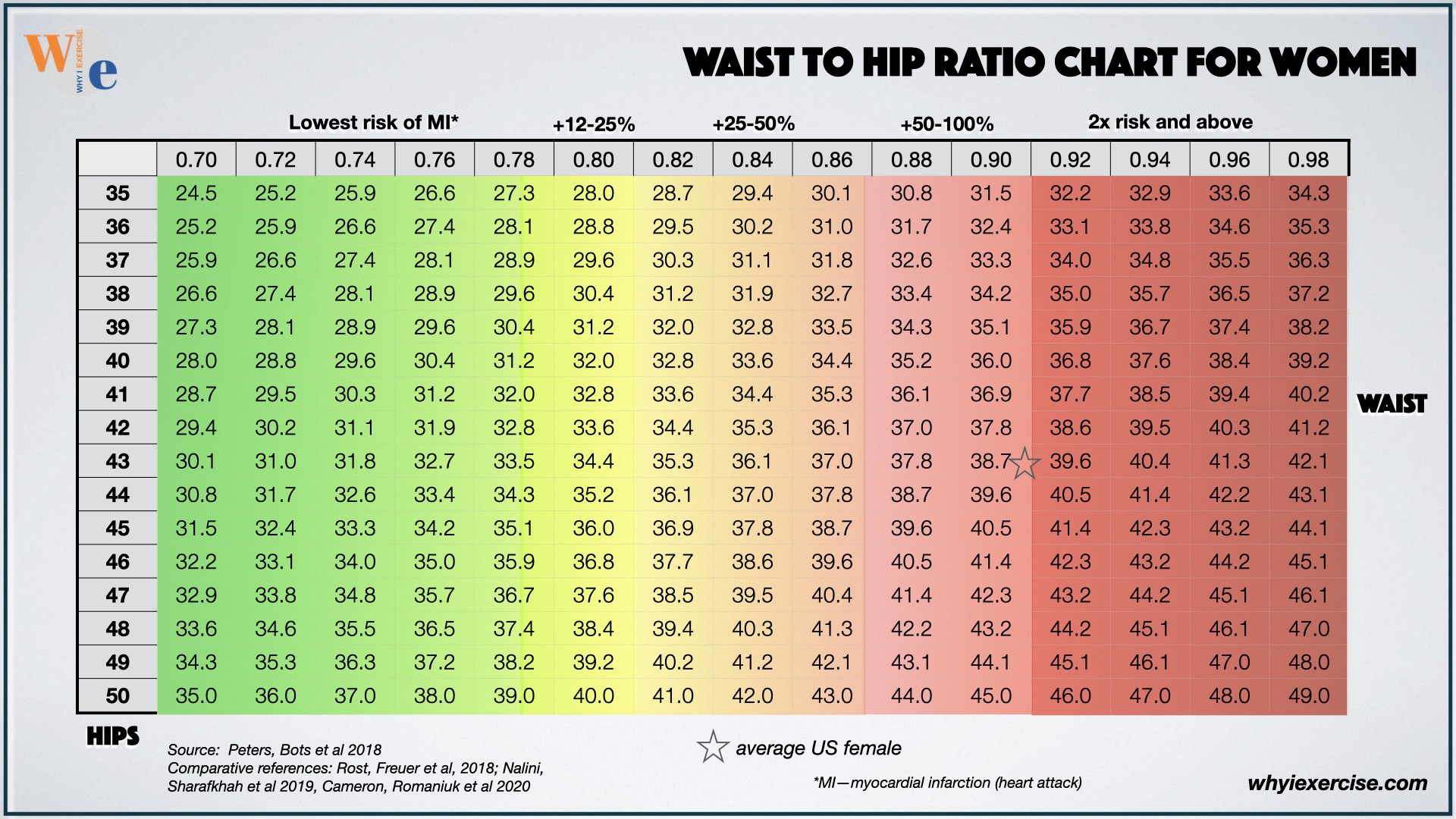 Waist-To-Hip Ratio:  How to measure yourself accurately
To measure your waist, stand upright and maintain normal tension in your waistline. Don't try to suck your waist in or let your belly hang out. Measure yourself at the level of your navel, turning to the side to ensure the tape is horizontal (not at an angle) all the way around. The tape should fit evenly, contacting the skin around your midsection without pinching.  

*This YouTube video by Why I Exercise guides you through correct waist and hip measurements step-by-step.
When you measure your hips, run the tape around the widest part of your hips. This should be near the mid-buttocks. The tape should run horizontally and fit evenly, contacting the skin around your hips, or your garment, without pinching. For the most accurate results, measure yourself in no more than one thin layer of clothing.  Repeat two or three times to make sure you have the correct measurement.  

You may have seen other articles or videos online that call for measuring at the narrowest point of your waist. The reference data for our health standards comes from research using measurements at the navel. (1-4) Take special care to avoid sucking in the upper abdominal wall for a better measurement. If this becomes a habit, it may lead to excessive tension in these muscles, which can cause back pain and dysfunctional breathing patterns. 
Waist-To-Hip Ratio: Men's Standards and Chart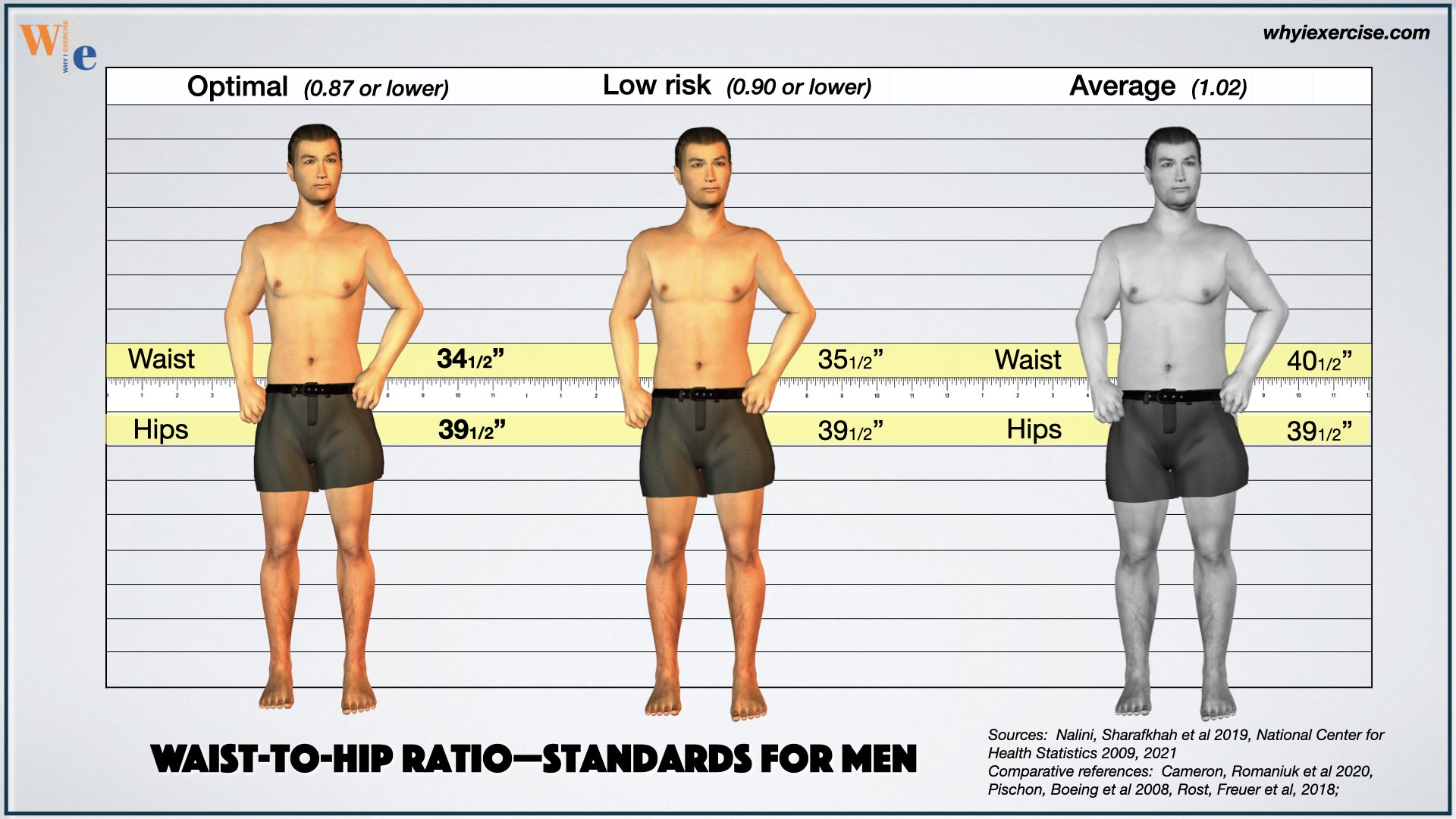 Men don't have a known ideal or most desirable hip measurement, but their optimal waist-to-hip ratio is 0.87 or lower, like a 34.5-inch waist with 39 and 1/2-inch hips. (3) An extra inch on your waist would still be low risk. We don't have current reference data for men's hip circumference.

| | |
| --- | --- |
| About 30 years ago, the average was 39.5 inches for men. (8) Pairing this measurement with the current average waist gives us a 1.02 waist-to-hip ratio. According to a 2019 study, an average man has over a 50% greater risk of death due to cardiovascular disease than a peer with optimal measurements.(3)  | |
Waist-To-Hip Ratio vs Waist Circumference and Waist-To-Height Ratio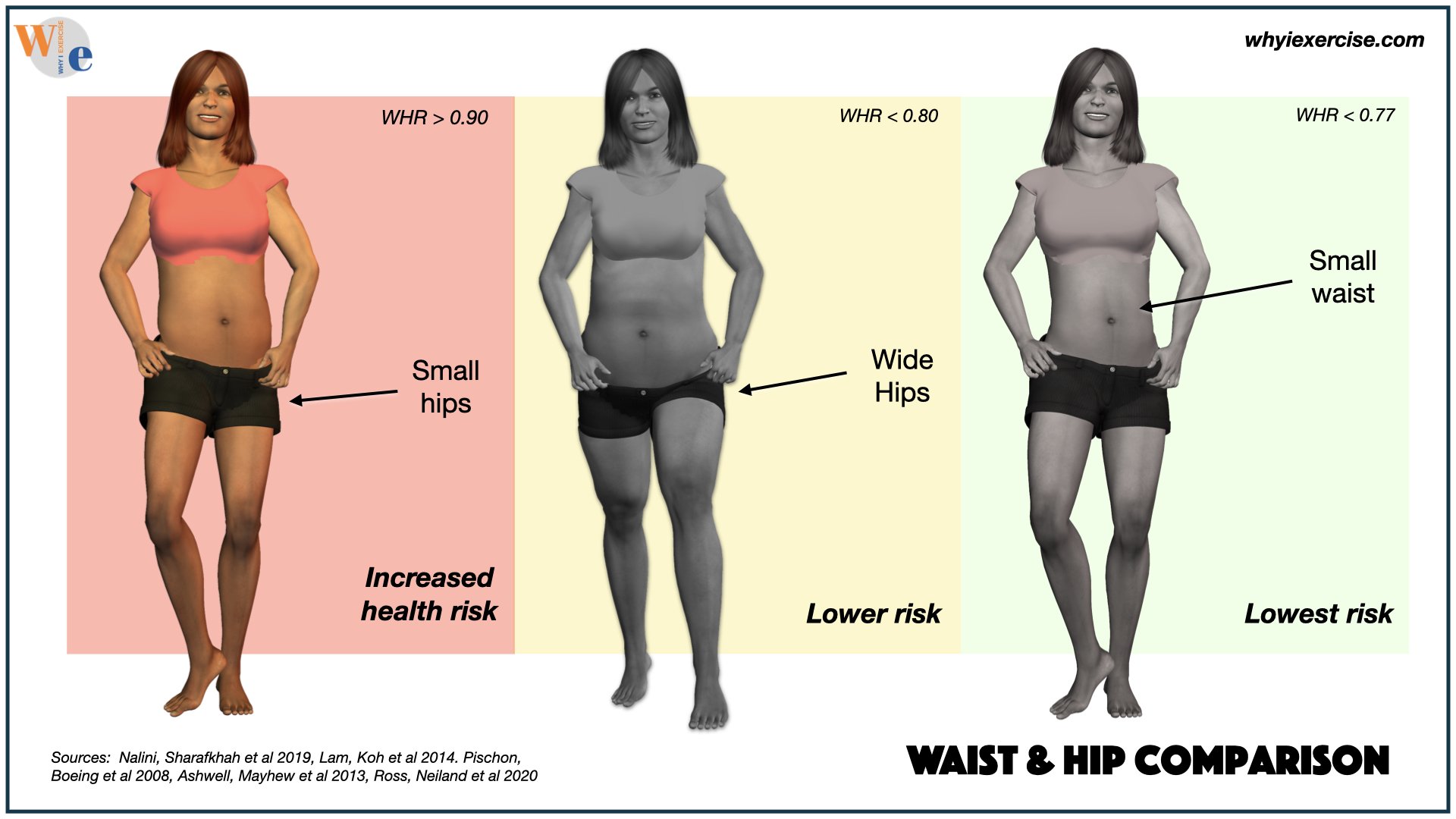 Waist-to-hip ratio research has established a proven health advantage, regardless of size, to have a relatively small waist compared to your hip circumference. (1-5) Other studies show health benefits from a smaller size overall. (6,10-13) Research on waist circumference and waist-to-height ratio will give us more clarity.   
Waist circumference research is most useful when factoring in other measurements such as BMI, height, or hip circumference. For example, waist-to-height ratio impacts healthy longevity, and the target is easy to remember. A waist less than half your height will lower your health risks. Research across the globe showed consistent results, regardless of bone structure or body type. (10-13)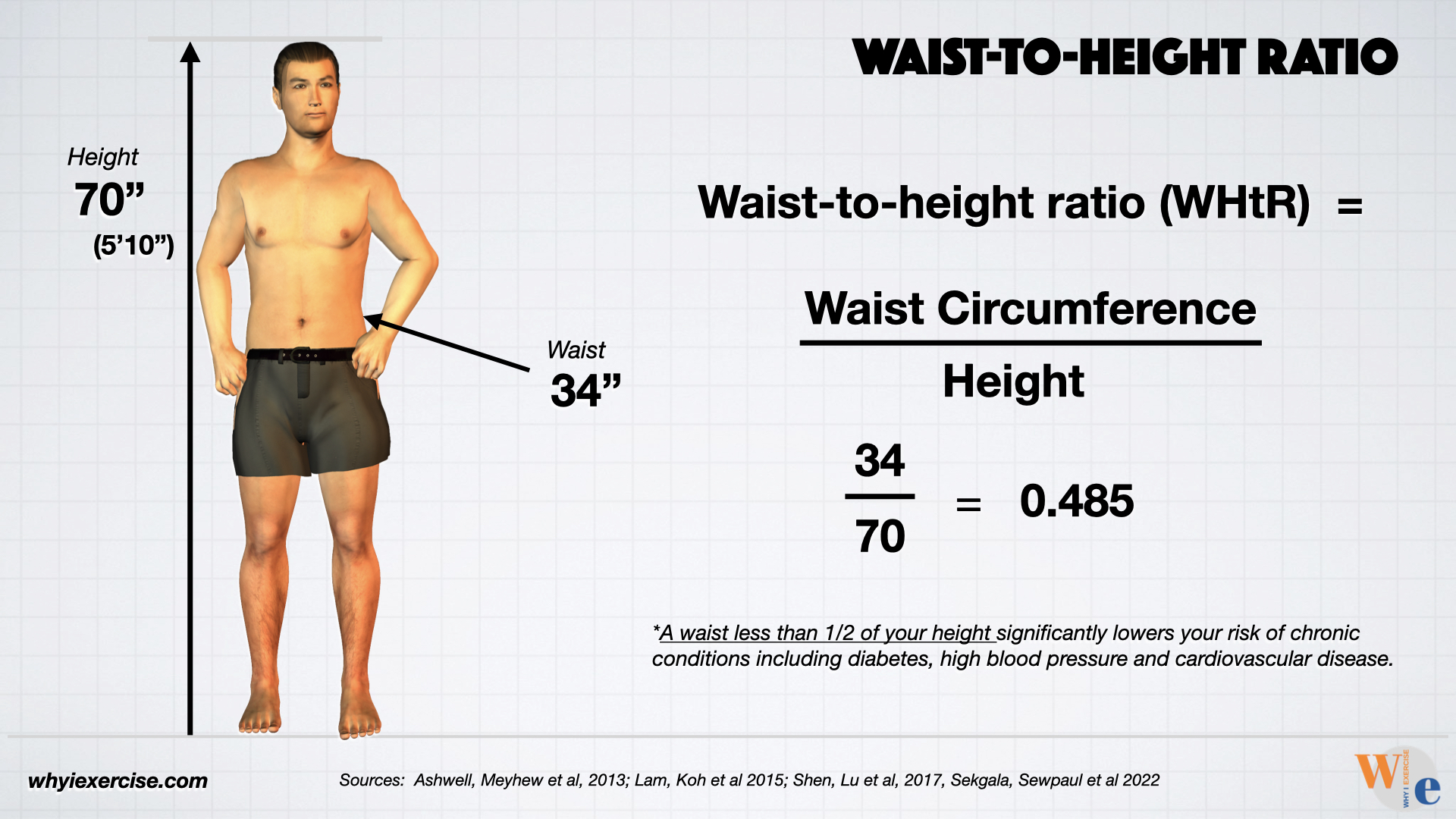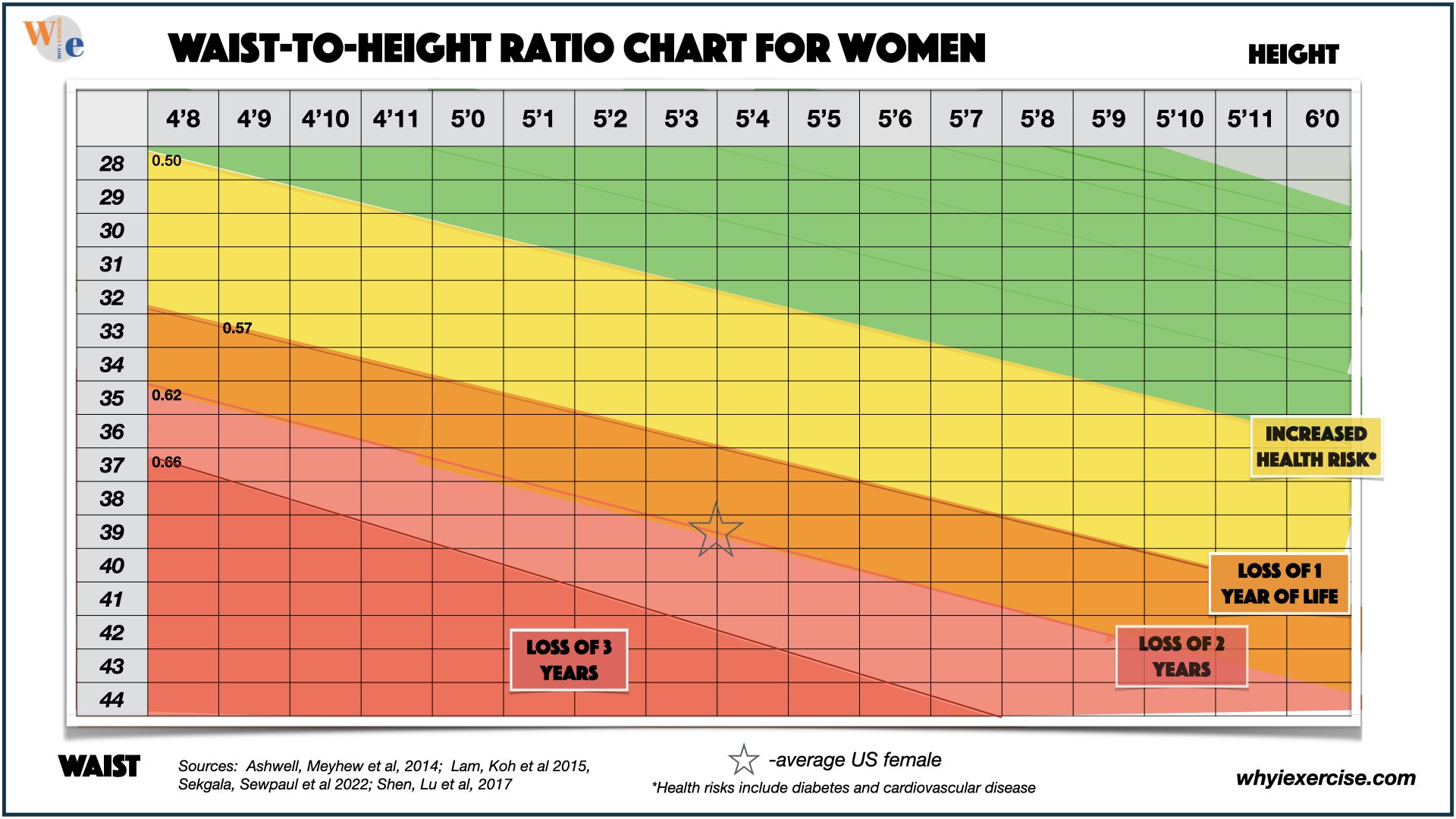 Find your waist measurement in the left column and scan to the right for your height to see where you score.  Data from a 2014 study shows that a 5' 6" woman with a 44-inch waist would live three years less than a peer with equal height and a 37-inch waist. (10)

Even incremental improvements in a your waistline can have a remarkable impact. The men's chart shows similar benefits for having a smaller waist circumference. According to research, a 6' 0" male with a 44-inch waist would expect to live two years less than a peer with equal height and a 40-inch waist. (10)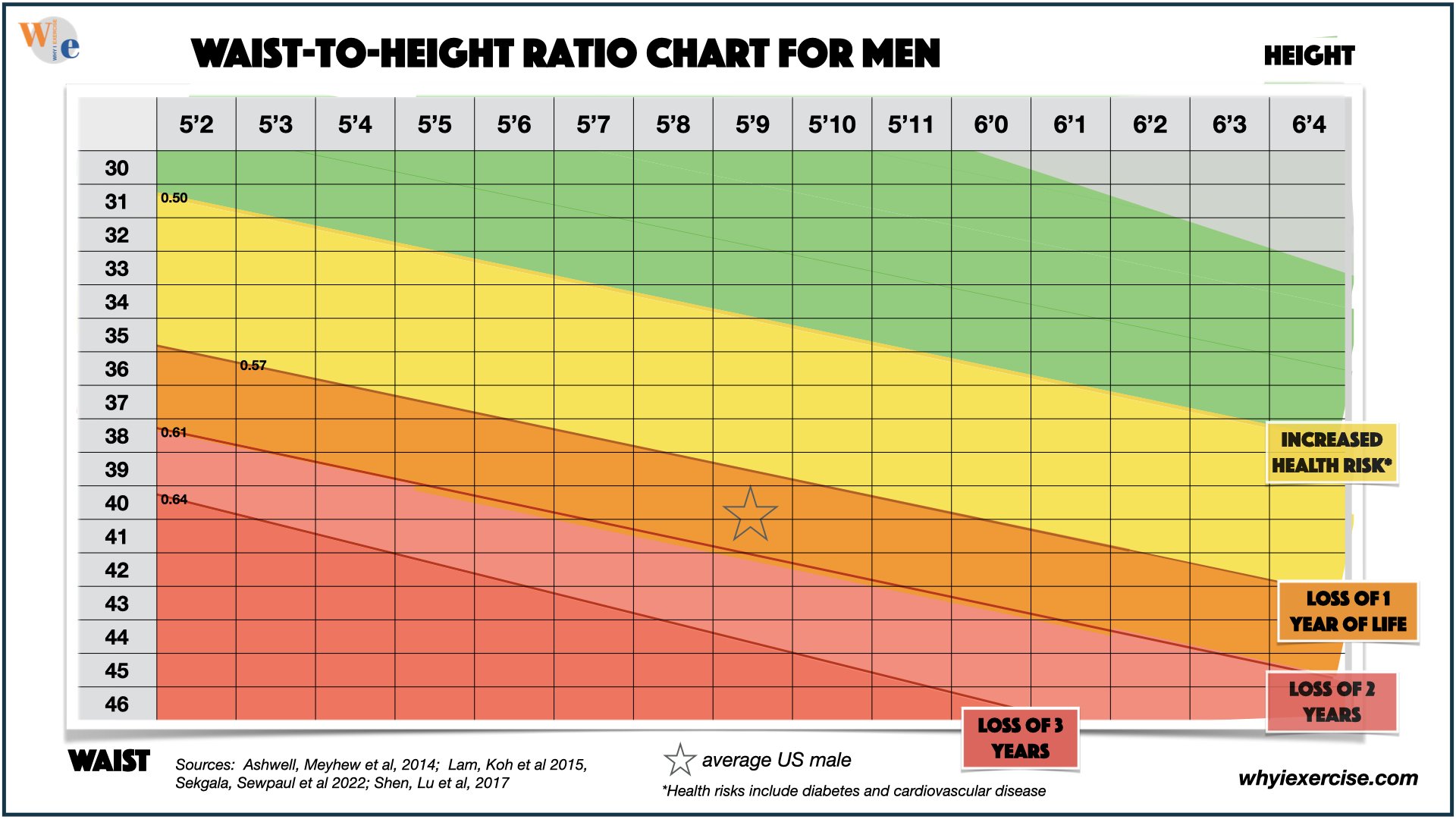 Combining the waist circumstance and waist-to-height ratio research data, we can see the potential health advantages over time for the average person who can be consistent with a healthy weight loss program. If an average woman (39-inch waist) loses 3 and 1/2 inches from her waist, she joins a group that lives a year longer. Another 1/2 inch beyond that, and she reaches the threshold to lower her risk of a heart attack.
If she goes the other way and adds 1/2 inch to her waist, she joins a group expected to live one year less. Three additional inches take away another year.
If the average man (40 and 1/2 inch waist) loses 1 inch from his waist, he joins a group with a significantly lower risk of heart attack. With an additional inch he reaches the threshold to add a year of life expectancy. Four more inches, and he joins a group with significantly lower risks of chronic conditions, including diabetes, high blood pressure and cardiovascular disease. If he goes the other way and adds one and 1/2 inches to his waist, he joins a group expected to live one year less. Three additional inches take away another year.  See the men's chart in this article.
Waist-To-Hip Ratio and Lipedema
The research data on waist-to-hip ratio, waist circumference, and waist-to-height ratio seems comprehensive for covering the health effects of body fat in the midsection.  But what about the health effects of excess fat in the hips, thighs, and lower legs? This condition, called lipedema, is much more common in women than men. 
From a health risk standpoint, studies have not shown a direct link between lipedema and the risk of chronic disease or premature death. Fat below the waist appears to be much less risky than fat around the waist. However, it's a small minority who have excess fat only below the waist. 80% of lipedema cases are in obese people. A cause for concern, either way, is how heavy legs may limit their overall ability to exercise. (14)
How to burn more calories
If you're not used to being active, the most effective starting point for weight and fat loss is to add light-intensity exercise throughout your day. For example, a 170-pound man sitting in a chair burns 18 calories every 10 minutes. If he gets up to sweep, vacuum, or go for a walk, he will burn up to three times the calories. When done regularly, even in short bursts through the day, light activity adds up to more calorie burn than you might imagine.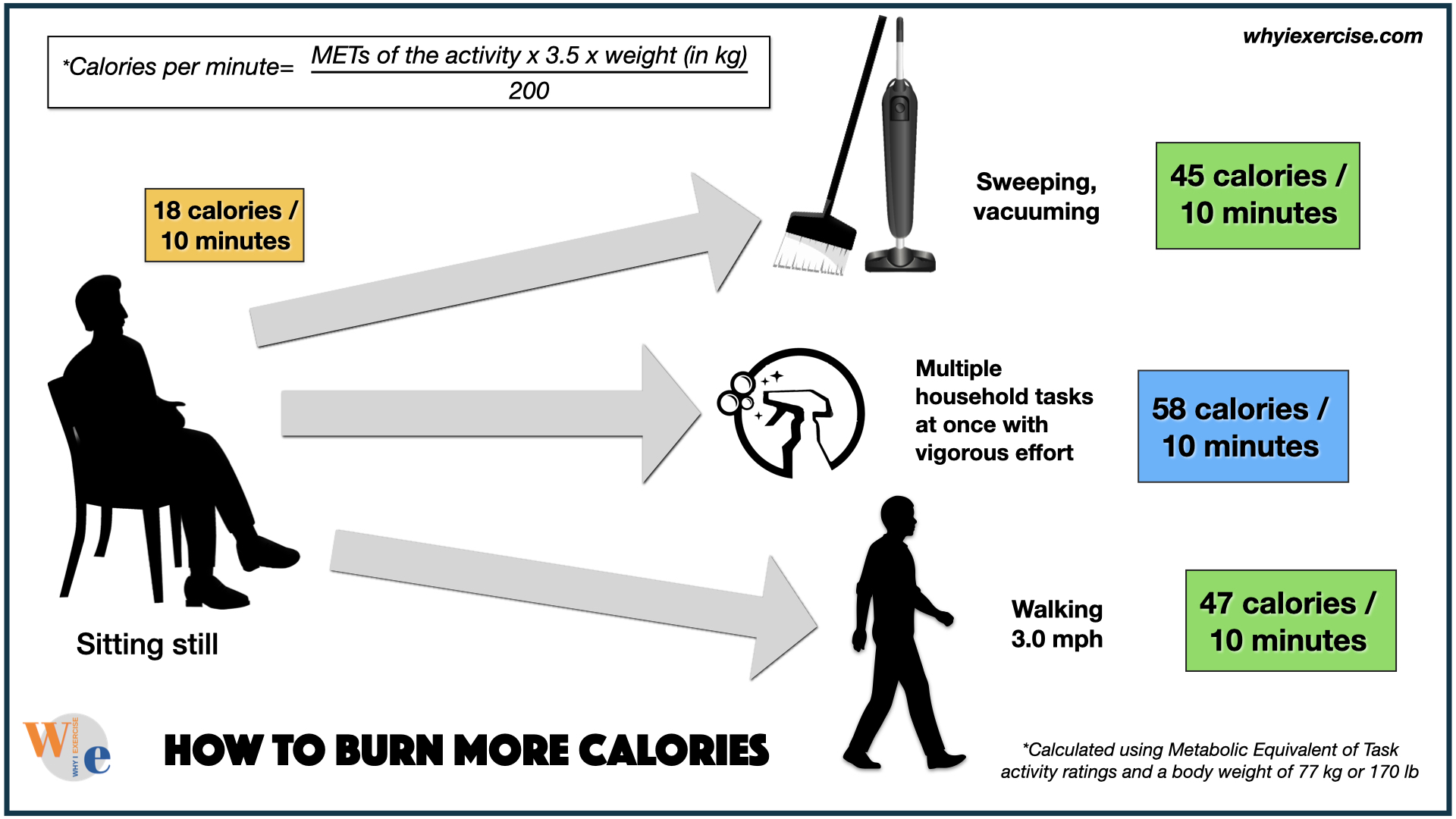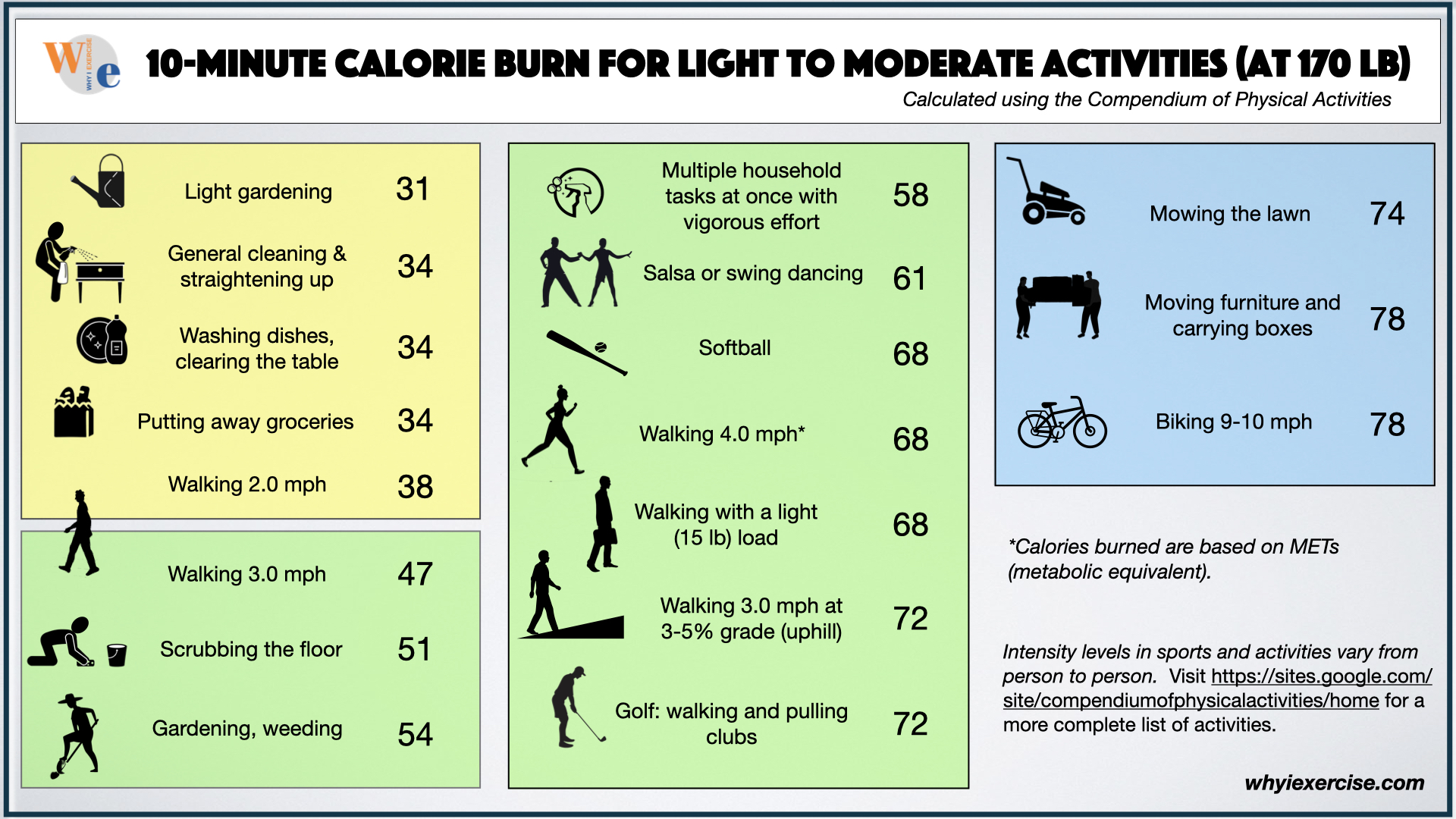 Here are the 10-minute calorie burn rates for 18 commonly used light and moderate activities.  For a person who isn't used to exercise, it's possible to gradually add active hobbies, sports, or workout sessions into your weekly schedule, starting at twice a week or every other day. Build an active lifestyle that is enjoyable and doable, and you're much more likely to find a way to keep it on your schedule for the long term, where it will make a real difference.

Waist-to-Hip Ratio and BMI
Waist and hip measurements identify excess body fat and the need for weight loss. Once you know you need to lose weight, you can also use body mass index research data for setting your goals. The risk of high blood pressure, diabetes, arthritis, chronic pain, disability, and other conditions were all studied by BMI. Find out your target weight to lower your health risks in this article. 
Related articles
---
Body mass index
Are you obese, overweight, or normal weight? How do you compare with men and women of the same height? Health risk charts are included for your reference.

Waist circumference
Find out how many inches you need to lose for better health. Learn proper waist measurement technique as you compare your waist line to averages for your gender and ethnicity.

While there are no specific foods proven to cause weight loss, studies have shown that a nutrient-dense diet significantly lowers the risk for serious chronic disease. You can improve your diet significantly with 11 simple steps.
Obesity scale
Analyze your results from the 3 body composition tests above, and get a research-based health rating. Find out how every pound and inch of improvement counts. 

Research on obesity                                    Key scientific findings on the obesity health epidemic. Trends in the statistics and the relationship between body weight and chronic disease are examined.   Find out the impact of obesity on life expectancy and cost of living.
If you tend to regain weight after starting a diet & exercise program, try a new perspective.   Overweight is evidence of a lifestyle that needs to change.   See my weight loss tips to get started.
References
1) Peters SAE, Bots SH, Woodward M. Sex Differences in the Association Between Measures of General and Central Adiposity and the Risk of Myocardial Infarction: Results From the UK Biobank. J Am Heart Assoc. 2018 Feb 28;7(5):e008507. doi: 10.1161/JAHA.117.008507. PMID: 29490971; PMCID: PMC5866342.

2) Rost, S., Freuer, D., Peters, A. et al. New indexes of body fat distribution and sex-specific risk of total and cause-specific mortality: a prospective cohort study. BMC Public Health 18, 427 (2018). https://doi.org/10.1186/s12889-018-5350-8
3) Nalini M, Sharafkhah M, et al. Comparing Anthropometric Indicators of Visceral and General Adiposity as Determinants of Overall and Cardiovascular Mortality. Arch Iran Med. 2019 Jun 1;22(6):301-309. PMID: 31356096; PMCID: PMC8843234.
4) Cameron AJ, Romaniuk H, et al. Combined Influence of Waist and Hip Circumference on Risk of Death in a Large Cohort of European and Australian Adults. J Am Heart Assoc. 2020 Jul 7;9(13):e015189. doi: 10.1161/JAHA.119.015189. Epub 2020 Jun 30. PMID: 32602397; PMCID: PMC7670538.
5) Khan I, Chong M, Le A, et al. Surrogate Adiposity Markers and Mortality. JAMA Netw Open.2023;6(9):e2334836. doi:10.1001/jamanetworkopen.2023.34836
6) Ross R, Neeland IJ, et al. Waist circumference as a vital sign in clinical practice: a Consensus Statement from the IAS and ICCR Working Group on Visceral Obesity. Nat Rev Endocrinol. 2020 Mar;16(3):177-189. doi: 10.1038/s41574-019-0310-7. Epub 2020 Feb 4. PMID: 32020062; PMCID: PMC7027970.

7) Fryar CD, Kruszon-Moran D, et al. Mean body weight, height, waist circumference, and body mass index among children and adolescents: United States, 1999–2018. National Health Statistics Reports; no 160. Hyattsville, MD: National Center for Health Statistics. 2021. DOI: https://dx.doi. org/10.15620/cdc:107559.

8) McDowell MA, Fryar CD, Ogden CL. Anthropometric reference data for children and adults: United States, 1988–1994. National Center for Health Statistics. Vital Health Stat 11(249). 2009. 

9) Pischon T, Boeing H, et al. General and abdominal adiposity and risk of death in Europe. N Engl J Med. 2008 Nov 13;359(20):2105-20. doi: 10.1056/NEJMoa0801891. Erratum in: N Engl J Med. 2010 Jun 24;362(25):2433. PMID: 19005195.
10) Ashwell M, Mayhew L, et al (2014) Waist-to-Height Ratio Is More Predictive of Years of Life Lost than Body Mass Index. PLoS ONE 9(9): e103483. https://doi.org/10.1371/journal.pone.0103483

11) Lam BC, Koh GC, et al. Comparison of Body Mass Index (BMI), Body Adiposity Index (BAI), Waist Circumference (WC), Waist-To-Hip Ratio (WHR) and Waist-To-Height Ratio (WHtR) as predictors of cardiovascular disease risk factors in an adult population in Singapore. PLoS One. 2015 Apr 16;10(4):e0122985. doi: 10.1371/journal.pone.0122985. PMID: 25880905; PMCID: PMC4400161.

12) Shen, S., Lu, Y., Qi, H. et al. Waist-to-height ratio is an effective indicator for comprehensive cardiovascular health. Sci Rep 7, 43046 (2017). https://doi.org/10.1038/srep43046

13) Sekgala MD, Sewpaul R, Opperman M, Mchiza ZJ. Comparison of the Ability of Anthropometric Indices to Predict the Risk of Diabetes Mellitus in South African Males: SANHANES-1. Int J Environ Res Public Health. 2022 Mar 9;19(6):3224. doi: 10.3390/ijerph19063224. PMID: 35328910; PMCID: PMC8949079.
14) Bertsch T, Erbacher G, Elwell R. Lipoedema: a paradigm shift and consensus. J Wound Care. 2020 Nov 1;29(Sup11b):1-51. doi: 10.12968/jowc.2020.29.Sup11b.1. PMID: 33170068.
Return to physical fitness tests.
Return from Waist Hip Ratio to home page: Why I exercise.